I'm delighted to announce the #DevOpsEnterprise Conference! Oct 21-23! It's the DevOps conference for the horses, not unicorns. :) Register & get free Phoenix Proj! http://t.co/u8YmNnIDcn #chefconf
Announcing

#DevOpsEnterpriseConf

! For the horses, not unicorns. :) Register & get free Phoenix Proj! http://t.co/u8YmNnIDcn

#chefconf
DevOps Rollercoasters, Rob Cummings, Nordstrom (
@OpsRob

)
@sigje

: Awesome!

@OpsRob

is assigning homework!
Awesome! That's our Rob! :) Happily received! :) RT

@sigje

: Awesome!

@OpsRob

is assigning homework!

@mcpeterson

:

@OpsRob

doing the do at

#chefconf

http://t.co/BZctryOCPD
RT

@mcpeterson

:

@OpsRob

doing the do at

#chefconf

http://t.co/BZctryOCPD
Up: Docker and Chef, Nick Stinemates (
@nickstinemates

)

Nick Stinemates (Director, Business Development & Technical Alliances at Docker)

Hands on Software Infrastructure, DevOps, QA, Engineering Director with a proven track record of scaling startups to successful exits. At Docker, Inc. I manage technical partnerships and integrations for Red Hat, Google, and others while constantly seeking emerging technologies to integrate with and route to market.
@duncanjw

: next up

@nickstinemates

chef and docker
.

@nickstinemates

: "physical world: 90% of all cargo now shipped in standard container; 10x reduction in cos/ttime to load/unload
.

@nickstinemates

: "Container vs VM: containers can run in VM (& bare metal); containers share OS, allowing much greater density
.

@nickstinemates

: "From IBM: container activation in seconds, 10x higher density than VM, cheaper (vs VMware), open source...
.

@nickstinemates

: "Containers have been around a while: Solaris Zones, etc. Containers enable Dev choose code/lib/pkg/apps/data
.

@nickstinemates

: "True story: VM move often slower than mailing USB key; Containers also allow copy-on-write deltas
.

@nickstinemates

: "Container use cases: (Wordpress)(PHP)(MySQL)(Apache), (MySQL)(Data Store)" (separating db from data!)
.

@nickstinemates

: "Use case: go from dev laptop, automated test, prod, scaling w/o modification; in continuous deployment pipeline
.

@nickstinemates

: "When to use VMs? Not all OS/kernels support containers; docker can run in docker; VMs can run in docker
.

@nickstinemates

: "
OMG. "docker diff" is something I've wanted to do for 25 years. (instantaneous fs diffing betw containers using copy-on-write)
Having weird feelings, counting how much of my life wasted snapshotting VMs, diffing filesystems, versioning files, etc. Wow.
Chef + Docker guide: http:// docs.docker.io / use / chef

@grepory

: Docker Getting Started Guide: http://t.co/w3bW4YSUFq

#ChefConf

@docker

Anyone else counting how much of your life was wasted snapshotting VMs, diffing filesystems, versioning files...?
Open or Not Open
Open technologies and business models are forcing and fueling new ecosystems, disrupting industries, and radically changing company cultures and identities. This panel discussion will feature industry experts from companies that are deploying, competing with, or exploring a shift to open models and technologies. This industry panel will go deep on working experience and best practices that are driving the new economy being built on code.
@TobyArmfield

: Open or not

#chefconf

http://t.co/sEU23V0eOp
I remember getting voicemail from Richard Stallman in 2001 when we open sourced part of Tripwire: "softare

@OBrienCommaJosh

: RT

@chef

: "The idea of openness is an important part of a democratic society, where everyone has a right to access code" -

@jezhumble

#chefc

…
"If you're not paying for the product, you are the product."
Up: John Esser: The Fellowship Of The Ring: Our Chef Journey (
@johndesser

): An awesome guy...

In the late summer of 2011 Ancestry.com became the first Private Chef (now Enterprise Chef) customer complete with a 51-page custom-written contract! The minute we saw Chef we knew it was a game changer. Already on the path towards continuous delivery, we needed a configuration management solution and Chef filled this most critical piece of our continuos delivery/devops tool chain. Ultimately, Chef has become the tool having the most impact across our entire infrastructure. Without Chef we would not have been able to accomplish what we have and it continues to be key as we forge new ground. Our Chef story has all the elements of an epic quest complete with heroes, villains, loyal sidekicks, magical beasts, and mystical artifacts. Come hear the story and the lessons learned that can help you succeed on your own Chef journey.

John Esser (Director Cloud Architecture at Ancestry.com)
John is currently the Director of Cloud Architecture at Ancestry.com. He is the architect of Ancestry's transformation to Agile/Lean development and continuous delivery. John is now architecting and leading Ancestry's initiatives for high availability, resiliency, and "cloudy" architecture. John has more than 25 years software development experience working for such companies as IBM, Corel, Callware Technologies, and Control4. His spare time is gobbled up by his beautiful wife, four teenage sons, reading lots of books, and fly-fishing for trout on the Provo River.
.

@johndesser

: "When I read

@jezhumble

Continuous Delivery book, I felt the calling of the quest, like in Hero's Journey
.

@johndesser

: "In Hero's Journey, hero's receive supernatural aid. Mine was Velocity Conference 2011 session on Chef
Fan's of Hero's Journey will love this 5 min video by Kurt Vonnegut on "shapes of stories": http://www.youtube.com/watch?v=oP3c1h8v2ZQ

@RealGeneKim

: On Hero's Journey: I love this hilarious 5 min video by Kurt Vonnegut on "shapes of stories": http://t.co/VrMrxYX6Vl

#chefconf

@johndesser

.

@johndesser

: "Mentors & helpers on the journey, support from Chef"

Chris Brown on EC2 experience, our salesperson, Joshua Timberman,

@adamhjk

.

@johndesser

: "We had a crippling one-day outage on 8/25/2013; realized that we couldn't recover, b/c chef code not in repo
.

@johndesser

: "...as a result, we could not spin up vm, & had to configure a VM by hand. We decided that could never happen again
.

@johndesser

: "Our countermeasure: we decided as a team that all VMs had to be 'chefized'
.

@johndesser

: "To return w/elixer: our prize that we had freedom to live, do things we wanted/needed to do, migrate cloud
.

@johndesser

: "Friends don't let friends build data centers" (haha)
.

@johndesser

: "Chef is the single most impactful tool in our transformation. It is strategic. I'm delighted."

@kwaldz

:

@johndesser

amazing presentation! Very inspiring and great metaphor :-)

#ancestrydotcom

#ChefConf
Up: The Ignite Talks!
Up: Jez Humble: Accelerating Flow
@grepory

: Architecture and Patterns for IT Service Management - Charles Betz

#ChefConf

http://t.co/8eLj3AhBQu

@OBrienCommaJosh

: On

@jezhumble

's reading list: The Principles of Product Development Flow

#ChefConf

@anjaniphuyal

: Most awaited talk "DevOps Culture And Practices To Create Flow"

@jezhumble

#ChefConf

@annbrady9276

: "leaving a CI build red is the most selfish thing you can do as an engineer" Jez Humble

@anjaniphuyal

: RT

@OBrienCommaJosh

: If you haven't read "Continuous Integration on a Dollar a Day" stop what you're doing, click, and read: http://t.co/oy…

@raskchanky

: OH: the rubber chicken does not scale.

#ChefConf

@TashaDrew

: RT

@SoberBuildEng

: .

@jezhumble

's simple diagram for "infrastructure as code."

#chefconf

http://t.co/WtFRfwNfeB

@RealGeneKim

: The HP LaserJet firmware story is truly amazing: my writeup of

@GRUVERGary

's journey: http://t.co/etKBj0aaNV

@OBrienCommaJosh

: Don't tell

@jezhumble

that automated testing is too hard to implement. He'll slap you.

#StraightFromTheHorsesMouth

#ChefConf

.

@jezhumble

: "when HPLJ firmware build fails, devs got email w/broken tests & build that can run in VM to reproduce/fix!"
.

@jezhumble

: "Lean is not about reducing costs; it's about investing to reduce waste"

@mschool

: RT

@rberger

: RT

@grepory

: Remember who you are and who you want to be. No matter how hard it is. Get up every morening and act like it

@ada

…

@OBrienCommaJosh

: WOW! By adopting true CI/CD, HP was able to increase printer firmware innovation from 5% to 40% in three years! -

@jezhumble

#ChefConf

@grepory

: "The point of doing A/B tests is to stop working on features that aren't delivering value to your customers."

#chefconf

@jezhumble

@RealGeneKim

: Yes, Mike Rother's "Toyota Kata" book and 4d workshop is amazing. My writeup: http://t.co/r2jMl2bVJ9

@BMC_DevOps

: RT

@grepory

: "What Toyota uses now isn't what is important to understand. Understand how they are determining what to do next."

@ChefConf: RT @petecheslock: Hey #ChefConf - Here are the slides for my "Tale of Two Workflows" talk. http://t.co/ZYzEZ2Vsr0
Misc
@CarlosPerez: RT @dfinke: RT @petecheslock I never thought I would say this. But damn #Microsoft is blowing my mind. #chefconf http://t.co/UmEPtAQJbl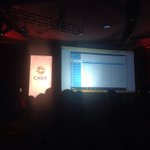 https://pbs.twimg.com/media/BlXHza3CIAERNQb.jpg
* RT @petecheslock I never thought I would say this. But damn #Microsoft is blowing my mind. #chefconf http://t.co/UmEPtAQJbl
RT @grepory: Docker Getting Started Guide: http://t.co/w3bW4YSUFq #ChefConf @docker
* @iroller: Anyone else is doing public notes at #chefconf? Share your links https://t.co/yWf02oKL2Q
* @neilhutson: RT @adamhjk: No lie, I love the new Microsoft. Regardless of history, these folks are the real deal. Redis cache demo now.
* RT @adamhjk: No lie, I love the new Microsoft. Regardless of history, these folks are the real deal. Redis cache demo now.
* @UberGeekGirl: RT @Azure: Check out @markrussinovich's keynote at #ChefConf: #Azure adds support for @chef agent for Linux VMs http://t.co/GXzB2duZpu
*
RT @Azure: Check out @markrussinovich's keynote at #ChefConf: #Azure & @chef agent for Linux VMs http://t.co/GXzB2duZpu
RT @annbrady9276: "leaving a CI build red is the most selfish thing you can do as an engineer" @JezHumble
RT @raskchanky: OH: @jezhumble: the rubber chicken does not scale. #ChefConf
RT @TashaDrew: RT @SoberBuildEng: . @jezhumble's simple diagram for "infrastructure as code." #chefconf http://t.co/WtFRfwNfeB
RT @OBrienCommaJosh: WOW! By adopting true CI/CD, HP incr printer firmware innovation from 5% > 40% in 3yrs! - @jezhumble #ChefConf
RT @grepory: "The point of doing A/B tests is to stop working on features that aren't delivering value to customers." #chefconf @jezhumble
RT @grepory: "What Toyota uses now isn't what is important to understand. Understand how they are determining what to do next."
@grepory: "What Toyota uses now isn't what is important to understand. Understand how they are determining what to do next." #chefconf @jezhumble
RT @grepory: "What Toyota uses now isn't what is important to understand. Understand how they are determining what to do next." #chefconf @jezhumble
@annbrady9276: best practices are just counter-measures to things that are not going well right now. they need to evolve! Jez Humble
RT @annbrady9276: best practices are just counter-measures to things that aren't going well right now. need to evolve! @jezhumble
@BMCDevOps: RT @grepory: "What Toyota uses now isn't what is important to understand. Understand how they are determining what to do next."
RT @grepory: "What Toyota uses now isn't what is important to understand. Understand how they are determining what to do next."
* @clokedincode: RT @petecheslock: This was my second favorite gif from my #ChefConf talk. http://t.co/FPBWaJ8yUa
yeaDevOps
RT @clokedincode: RT @petecheslock: This was my second favorite gif from my #ChefConf talk. http://t.co/FPBWaJ8yUa
yeaDevOps